Today we're chatting with Amanda Kastner, also known as storyseamstress on Storybird. Amanda is a nature-loving, book-hugging artist from Minnesota, who is not only skilled with pen and ink, but also with needle and thread.
---
"Working hard at something you love is never a waste of time."
---
Can you tell us a little bit about yourself, perhaps something most people don't know?
Hello! My name is Amanda Kastner. Besides being a freelance artist, I'm…

…a confirmed country girl who loves living in Northern Minnesota surrounded by lakes and trees. (One summer growing up I collected and identified over 200 local weeds and wildflowers for a county fair project!)

…a fabric and fiber artist who enjoys spinning yarn, knitting, tatting lace, designing sewing patterns, and making dresses. (Both of my sisters-in-law asked me to make their wedding dresses!)

…an avid bibliophile who loves old books—and new books—and picture books—and classic books—and doubles or triples of books I already have but need another copy of for lending out! (My books would fill up over 50 linear feet of bookshelves—if I put them all properly on shelves.)
What inspired you to become an artist, and how did you get your start?
I've always loved to draw. I still remember how pleased I was with myself when I mastered the art of the stick figure! When I was six my parents bought me my first sketchbook and a set of really nice colored pencils. Little did they know how many sketchbooks were to follow!

As I got older, I kept my enthusiasm for creating pictures—although I didn't enjoy the "how to draw" lessons that focused on drawing cubes and cylinders or shading bowls of fruit. I preferred draw scenes and characters that told a story. (Though I did eventually come to realize that shading and drawing basic shapes are very necessary skills!)

Take us on a tour of your workspace. What are your favorite tools?
My main workspace is my extra-long desk. Usually my computer and digital drawing tablet are at one end, a stack of notebooks and papers are at the other end, and my current project is spread over the workspace in the middle.

In front of me is a mirror so I can make faces at myself (how DO your eyebrows look when you're extra surprised? Incredulous? Disgusted?) and next to that is a shallow shelf lined with jars of pencils and pens, bottles of ink, tubes of paint, tape, scissors, and other art supplies.

Above my desk on the other side I have my "inspiration clothesline"—rows of twine with Stuff I Like clipped onto it: some of my latest scribbles, art postcards or vintage prints, photos, homemade cards, scraps of fun fabric or paper—anything that catches my fancy! It's usually a cluttered, creative space, and it makes me happy.
Can you walk us through your creative process? How do you bring your illustrations from a sketch to a finished work of art?
I start with a sketch, either lightly done in mechanical pencil or erasable blue pencil. I find it hard to do the visualizing/composing/sketching stage digitally and prefer to stick to good, old-fashioned paper! When I have my sketch the way I like it, it's time to ink.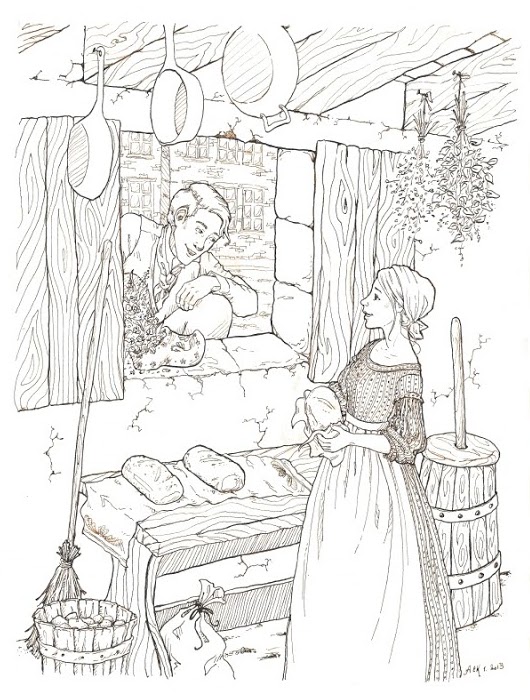 If I plan to color the illustration digitally I'll usually use Pitt Artist Pens to ink the lines. Next I'll scan my sketch and clean it up so it's a nice black and white line drawing, ready to color! I do that in Corel Painter X (or the Sketchbook Pro app if I'm working on the go). I put a flat layer of colors behind my linework, and once I'm happy with that, I'll add more layers for the shadows, highlights, and other effects.
If I'm going to watercolor, I like to ink my drawing with a dip pen and ink. The picture keeps some of its "sketchiness" better with a dip pen, and I like that look.

After all of the linework is done, I'll water down my ink and paint in the shadows and dark areas of the drawing. This really helps the final painting have a sense of depth!


Next, I'll get out my watercolors and gradually build up the layers of color. I keep my palette pretty limited—just a couple of shades each of red, blue, yellow, and brown. I mix the colors I need from these; I like the slight variations of color that gives.
Finally, I'll add a few more shadows—here I'll use a lot of purple!—and maybe some white gouache (which is like a thicker watercolor paint) to pick out any highlights that may have gotten lost.
Did you have a favorite illustrator or book growing up? Did it influence your work?
I was (am!) a voracious reader of the flashlight-under-the-blanket variety; I'm not sure I could pick just one favorite book! Growing up I enjoyed lots of mysteries and classics or historical fiction. I think reading stories that created pictures in my mind influenced and inspired my drawings as much as looking at illustrations.

Cecily Mary Barker and Tasha Tudor are two illustrators whose old-fashioned watercolors I admired and copied. I loved the illustrations of Trina Schart Hyman even before I knew who she was. Once I made the connection ("the illustrator of THIS book is also the illustrator of THAT book!") I became an immediate and ardent fan and collected as many of her books as I could!

Finally, do you have any words of advice for young aspiring artists?
My advice is quite simple: keep drawing! Although there are so many amazing artists out there, don't look at their work, become discouraged, and quit. Be inspired, appreciate the different styles and talents you see around you—and get back to your own sketchbook!

Persevere. Take a break if you need to, but then come back and tackle it again. Growing up I used colored pencils almost exclusively. I wanted to use watercolors, but I just couldn't get them to cooperate! I'd try again periodically, and then go back to my trusty colored pencils. Finally, something clicked and suddenly I realized that I might actually like watercolors after all! (Moral of the story: if you try something once and it turns into a soupy mess, don't give up; maybe you just need to try a second—or third—or twenty-seventh—time!)

Pursue your love of art! Working hard at something you love is never a waste of time—and who knows what adventures it may take you on?
---
Visit Amanda's art shop and start a new story today!