Turn up the music, turn down the drama!
For this Storybird Scribes challenge, we're putting a new spin on poetry. A few months ago, we introduced you to the world of SpacePOP with our first fan fiction challenge. The stories were inspired by a YouTube and book series about five galactic princesses who disguise themselves as musicians and join the rebel resistance to vanquish the evil Empress Geela, who has taken over their home planets.
Here's the latest episode — see all of them (and the music videos) at the link above!
The girls in SpacePOP use music to spread the message of freedom, hope, and friendship through the galaxy. Now it's your turn. Remix the SpacePOP artwork on Storybird with original lyrics from their songs to create your own inspiring messages to send out into the world.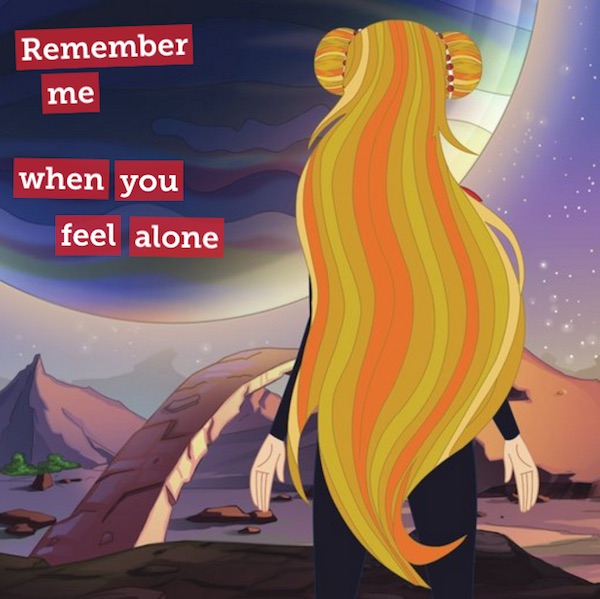 PRIZES!!!
For the first time ever, we will be offering prizes to the challenge winner! The winner will receive a copy of Not Your Average Princesses, signed by author Erin Downing, and the official SpacePOP audio CD with recordings of all of the SpacePOP songs.
The winners will be selected by the SpacePOP creative team in Los Angeles and Storybird staff. Poems will be judged on creativity and originality—how you combine the lyrics and artwork.

Anyone with a Regular (not student) account can enter the challenge, but to be eligible for the prize you must live in the USA and be over 7 years old. Winners will be notified via the email associated with their Storybird account, and their parent/guardian must fill out a prize verification form before they can receive their prize. Read all terms and conditions here.
---
October Challenge: SpacePOP Poetry Remix
RULES
1. Theme: SpacePOP Poetry Remix - For this bonus challenge, create a visual poem combining SpacePOP artwork and lyrics.
For your story to be eligible for inclusion in the monthly roundup on the Storybird blog, you must submit it on or before October 25, 2016.
2. Artwork – You must use SpacePOP artwork and lyrics for this challenge. You may choose from one of these three word sets:
3. Submit - When you have finished your remix and are ready to submit it, just publish your poem and submit it to the Challenge using the drop-down menu.
Reminder: You must have a Regular account for your poem to appear in the public library and to be featured on our blog. Stories published from Student accounts are only visible to members of your class.
All entries must follow our community guidelines to keep Storybird a family-friendly space.
This month's badge is:


---
TM & © 2016 Genius Brands International, Inc. All Rights Reserved.

Genius Brands International, Inc. "GBI" (OTCQB: GNUS) is a publicly traded global brand management company that creates and licenses multimedia content for toddlers to tweens. Led by award-winning creators and producers, GBI creates "content and products with a purpose," providing enrichment as well as entertainment. The Company distributes its content worldwide in all formats, as well as a broad range of consumer products based on its characters. GBI's portfolio includes award-winning Baby Genius, recently re-launched with new entertainment and over 40 new products; adventure comedy Thomas Edison's Secret Lab, available on Netflix, public broadcast stations and GBI's Kid Genius channel on Comcast's Xfinity on Demand reaching 21 million households; animated movie Stan Lee's Mighty 7, the first project from Stan Lee Comics, a joint venture with Stan Lee's POW! Entertainment and featuring an all-star voice cast led by legendary Stan Lee; and Warren Buffett's Secret Millionaires Club, created with and starring iconic investor Warren Buffett. The Company is also producing a new animated preschool series based on Llama Llama, the NY Times bestselling children's book franchise; and a tween music-based adventure series SpacePOP.