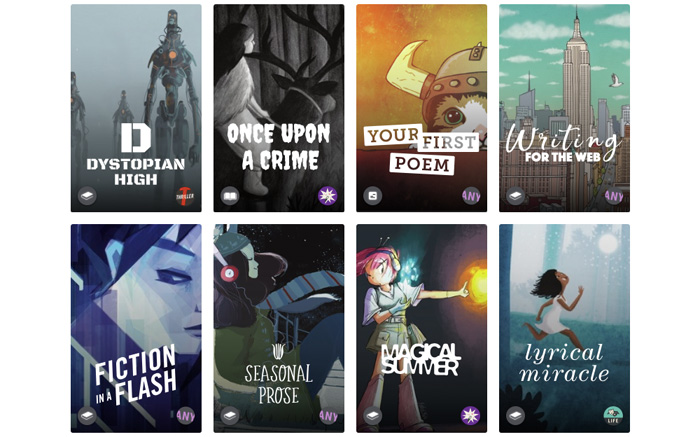 You thought you were getting a September Challenge? Think again. You're getting TWENTY CHALLENGES this September. And October. And November. And… okay, this could go on for awhile, so let's back up a minute and explain.
Today, we've just launched a whole new way to enter Challenges on Storybird. New topics, new genres, new levels of difficulty. All built around what works for YOU.
Here are just a few of the awesome new features to check out:
Choose Your Own Adventure: In the past, Challenges were aimed at all age groups and writing levels, but now you can choose the difficulty, format, and genre that fits your writing mood on any given day. Whether you're an emerging writer or a Storybird veteran, you'll find a Challenge that's right for you.





Goodbye, Deadlines: Unlike previous Challenges, you can now submit your story when you're ready, without worrying about a deadline. All available Challenges are open for submission as soon as they appear on the site. No more missing out on past Challenges, or rushing to finish a story that could use some more editing. Now you can submit a polished piece every time.


More Stories in the Spotlight: Just like our previous monthly challenges, you'll still have the opportunity to be featured on the site as a Storybird staff pick. Even if your entry isn't selected, giving feedback is now a part of submitting your work, so more writers will get recognition. The more Challenges you enter, the more readers you'll gain and the more writing feedback you'll receive.
Get Serious About Writing: Great writing takes time and effort, so to make sure you're published alongside hard-working writers like yourself, Challenges will require 25 Crowns to enter. Don't worry though; ALL challenges will be available to ALL members, paid or regular, and you earn 5 Crowns every day that you write on Storybird. Those add up quick!


All the Badges: We're kicking things off today with 20 never-before-seen Challenges, and new ones will be added to the site every month, so you'll never run out of options. Oh, and did we mention that they ALL HAVE BADGES?


Coming soon! Extra Special Challenges: We know a ton of you look forward to the Monthly Challenge, and we've always looked forward to your truly astounding submissions. While it won't continue in exactly the same form, the spirit of Monthly Challenges will remain, with a featured challenge every month. Stay tuned for more…
With these brand new Challenges, get ready to get so much more out of Storybird. More exposure on the site, more feedback from the community, and more improvement in your writing.
It's gonna be bananas.