Ohio writing project: digital tools and texts
What does it mean to innovate? Innovation encompasses all that we do in life. It's less about the term innovation and more about the mindset that should be the steady foundation, resting underneath. One must be willing to grow by getting uncomfortable and questioning not only the world, but the roles we fulfill within that space.
As educators, we need to move away from technology as a mark on a checklist. We should move into a space where technology is merely a tool to help our creations develop. Technology can provide the software, so to speak, and the platform for sharing. We are in the driver's seat when it comes to what we will create.
Knowing that the best reading teachers are readers, and the best writing teachers are writers, shouldn't all of our teachers be innovators? If we want children to embrace and take seriously the role of innovator, then we must be willing to be the guide on the side offering support and mentorship. This mindset encompasses all content areas and grade levels. It is for everyone, PreK-12.
In my heart, the things I know to be nonnegotiable are students reading what they want and writing what they want. My whole classroom revolves around this belief that my kids deserve protected reading and writing time each and every day. Within this time, I value inquiry work and students exploring the things that matter to them. One book, one pen. These are the tools that will help us change the world, and these are the tools that I provide my students no matter the cost. All other things just do not matter if my kids do not have a voice and choice in all aspects of their day. Technology is the vehicle.
Our ability to shed our comfort and move into spaces that feel difficult and necessary for growth, shows a lot about who we are as educators. Sure, we can be flexible when it comes to pop up assemblies and schedule changes, but are we ready to really disrupt our thinking on the assembly line education most American children are receiving? It begins with putting our kids first. Deciding that the right thing to do is to involve children in their educations. They should be making decisions about technology and every aspect of their educational careers. What we do for kids, we do to kids. Their educations should not be something done to them. Our focus should be kids and relationships with them first. Technology and reading the world can help us elevate their voices and give them the platform to share those voices with the world.
My generation is one that embraces change and technology. I have grown up in an era where technology is rapidly improving, often times, at a rate that is impossible to keep up with. This gives me the upper hand.
My love of trying new tools out, tinkering around in programs and staying connected will help drive my digital future.
Moving into a space where technology is an aide for elevating our work is where I want to be. I want students to publish, research, evaluate sources and read images like they never have before. I want them to read online content and then be able to think about what drove the writer to share their work.
Building community in the classroom is imperative to this type of environment. Once students see that I will not return every essay and story drowning in red ink, they will see that I am a facilitator, a writer, alongside them, on the same journey. Maybe I am at a different point in the journey, but we are all going there together.
Personally, I hope to continue to use technology to improve my life, not dictate it. Creation should play a bigger part than consumption. This requires some focus on my end. It is far too easy to fall down hashtag rabbit holes.
Reflection: Teaching Is Political
I had the opportunity to hear Donalyn Miller deliver one of her many Nerd Talks at nErDcampmi this summer, and her words resonated with me, as they often do.
She spoke about the power of putting a book in a child's hand. The power of literacy. The fact that not too long ago, in America, large groups of people were denied the right to learn how to read, to write. All because knowledge and education both carry power. The very power required to participate and be an active member in a democracy.
This all fit perfectly into the work I have been exploring when it comes to innovation and inquiry. At some point, we have to backtrack a bit. We are going about things the wrong way when we decide to start with developmentally inappropriate nationally normed standards. Should we not begin with the children who sit in front of us? The children that change each year? The children whose parents trust us to spend more time with their own children than they do during the school year?
Her words reaffirmed what I already have learned to be true. Education is not something we do to children. How can we expect young adults to have to raise their hands to use the restroom, and then less than a month later they are expected to be fully functioning adults? At what point do we decide that the best purpose of an education is to provide kids with real life experiences and strategies and critical thinking skills. The kinds that help them actually be adults. The kind of adults we want to exist with in an democratic society.
My teaching has and will continue to move in this direction. One of advocacy. One of arming children with the skills needed to be educated, caring, thoughtful and inquisitive individuals. Individuals not afraid to ask why. Not afraid to question everything.
This reflection had a profound impact on my thinking. This was the "less is more" section of the book where we started exploring tools we use and how we use them. The chapter broke down tool usage into three categories or stages, as I like to think of them as. Literate, adaptive and transformative. My list of only eight tools was intentional and suited to me and what I believe to be the needs of most of my students. Storybird is now on that list. Using this platform to create my portfolio has my head swirling with ideas about how to use it with readers, writers and thinkers.
While I am working on moving FlipGrid, YouTube and Storybird out of the literate column, I know that I want to take my time in exploring these resources. It is not enough for me to make this Storybird and then move on, maybe mentioning it as a publishing outlet during class. If I can deepen my understanding, it could become yet another resource to help elevate our voices.
My goal is to publish a chapter book (shorter length), picture book and at least a few poems before the school year. My purpose is twofold. One, once I have had a chance to play around with the resources, I can be a better support system for the kids when they work. Two, what a great place to store mentor texts and my writing pieces that do not find a home in my own writer's notebook. The art work is inspiring and will lend to conversations during Mock Caldecott in the winter. We spend much time talking about how illustrations move us and tell stories without words, this tool will pair with that complex work beautifully.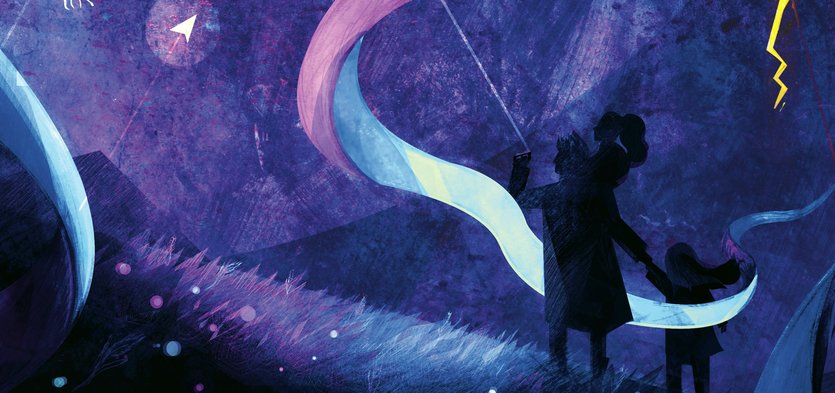 This class has been a great blip on my teaching journey. I have learned alongside dedicated educators. Educators who have challenged my thinking with their smart ideas. Educators who think differently and provide a simplicity and perspective that I often struggle to find.
This has all led me to the work that I am most excited about for the new school year. Three aspects that will be completely different than the ways I have started the year in the past:
Inquiry Based Student Guided Curriculum
Comprehension and Collaboration and Curious Classrooms will be the last two professional texts I finish this summer. These two texts provide inquiry units and lessons to help guide a switch to a student centered curriculum. I have to fight off the temptation to add any other texts into the mix. I also need to understand that C&C is mostly a guided resource that can be made into whatever I want it to be. This is my first step to planning for a fresh school year.
I shared that I plan on having my incoming students come to school and help me setup our new learning space. This is the work that I am looking forward to. Getting to know these kids before school starts. Getting to see what they like and what types of environments help them learn. Getting to interact with parents and guardians before the year has even started. After our work together, I want the kids to be able to reflect on the practice. I want the opportunity to share what we do because I know it will be a powerful exercise. I plan on blogging, tweeting and Instagramming the experience, but I will have students choose how they want to reflect on the work. Opening this up for reflection will also tell me a lot about the kids and how they prefer to publish, jot ideas and develop their little pebbles of inspiration.
This past week, I have had many questions about classroom pets. Naturally, I took to my followers on Instagram. So many teachers at my fingertips! Within minutes, seconds really, I had access to real-life classroom pet experiences and advice from those who had actual experience with the process.
These teachers reaffirmed what I knew should be at the heart of this inquiry, and that is my students. Many encouraged me to get the kids involved with the decision and financial aspect not just because of fears and allergies, but also because of community building.
My own inquiry (using Instagram as a tool) helped me find the hashtag #classroompets. Here were tons of visual representations, snippets and little bits of advice to guide my inquiry. Next, I found out about a classroom grant program that will help us finance our new friend. Within 24 hours, I talked with my teaching partner about a beginning of year inquiry pulling in math, science, social studies and of course, reading and writing.
My own curiosity and idea drove my inquiry. I was engaged in my learning because I had access to innovative outlets and I cared about the topic. As I'm writing this now I am realizing that this could be the basis for every single exploration we take on this year.
We can have an idea. A question. A wonder.
We can have access and the ability to explore, if our schools let us.