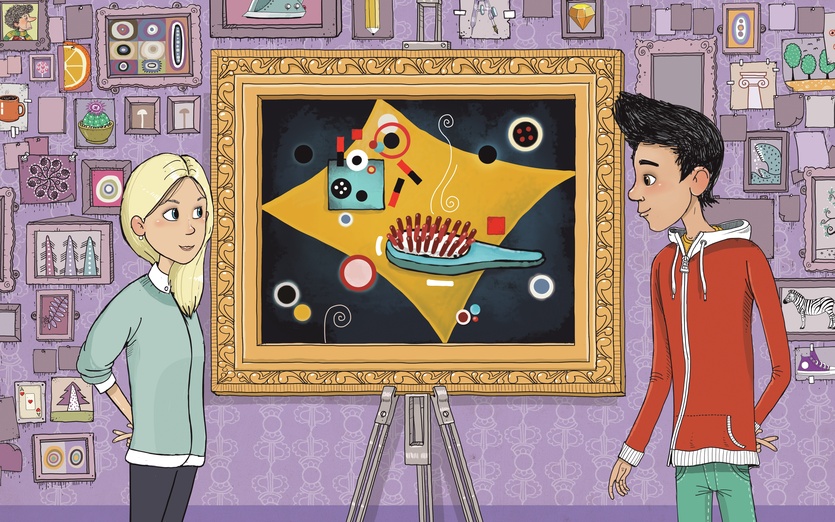 CHAPTER
48
Grayson has been kind enough to spend a bit of time answering all the questions you guys have for him after reading his and Claire's story. I've collected as many of your questions as I could and given them to him to answer. So let's see what he has to say for himself?
Stay tuned for tomorrow when we'll put up Claire's interview!
WHAT REALLY HAPPENED BETWEEN YOU AND SYDNEY?
You guys really go straight for the tough questions, huh? To cut a long (and depressing) story short, when I started doing jobs for Mr. Gallo, she decided the time I spent doing that was really spent with another girl. I couldn't exactly tell her the truth—that I was scoping out ATMs and hacking into people's computers for my teacher. So I couldn't convince her she was wrong. End of story, I guess.
WHY DID YOU DO WHAT YOU DID?
I ask myself that same question a lot. I guess because I knew Mr. Gallo and had been doing jobs for him for quite a while before I met Claire. And at first, I had no idea that I'd, well, you know, care about Claire more. By the time I did, I was already involved and getting out seemed riskier than going through with it. It might seem stupid, and it's probably because I tried to convince myself, but I convinced myself it was the right thing to do. Stupid, huh?
WHY DID YOU GET INTO PETTY CRIME?
My father is—was—a powerful business man. Every night over dinner, he'd tell stories about all the deals he'd pulled. Things like taking over a company by exploiting someone else's misfortune, or whatever. He's the kind of man who values things like cunning and smarts, unless it's directed at him. So, I don't know, working for Gallo kind of felt like doing things my father would admire. It's hard to talk about it now because I realize how stupid that was. Even stupider, considering who my father turned out to be down deep.
WHY WERE YOU SUCH A TRAITOR?
Ouch. I guess I deserve that. I guess the answer is the same for the two questions above. It seemed like the best option at the time. Now it seems like the stupidest mistake I ever made.
ULTIMATE VACATION? STUCK ON AN ISLAND WITH ONE PERSON, WHO IS IT?
I figured I'd answer those two together since they'd be the same thing. Stuck on an island with Claire, of course (and falafels).
WOULD YOU RATHER LOSE AN ARM OR A LEG?
Wow, that's a tough one. I guess, a leg. Legs are great for walking and standing. Arms are good for a million things, plus it would be hard to type without one. So, sayonara, leg.
WHAT DID YOU THINK WHEN YOU THOUGHT THE SPY WAS SYDNEY?
It was weird. Surprised, because I hadn't even considered that possibility. Relieved, because most of the worst information hadn't come from me after all. Sad for Claire, too, because it seemed like everyone in her life had betrayed her, and even her father was using her in a way.
WHAT DO YOU THINK HAPPENED TO YOUR DAD?
I wonder about that a lot. One thing I do know, is that he's like a cat—he always lands on his feet. Wherever he is right now, I bet he's got a bunch of schemes happening. If I had to guess, I'd bet he's in Mexico somewhere.
WOULD YOU TAKE YOUR FAMILY TO IDAHO?
There is a part of me that wants to say yes, just because I guess it's time that my family started acting like a family, and Idaho seems like the sort of place where that stuff is more natural. I just don't know about inflicting Edie on Claire, though. Can you even imagine Edie in Idaho?
DO YOU THINK CLAIRE FORGIVES YOU?
I think so. But, I'm not sure she'll ever forget. I could be an angel the whole rest of my life, and there will always be a part of her that waits for me to betray her again, I guess. I can't blame anyone else for that, though. So, yeah, I think she forgives me, but I'm not sure she should.
DO YOU THINK YOU'LL HAVE A LIFE TOGETHER?
I'd be happy to start with a summer.
WHERE DO YOU THINK THE LOST PAINTINGS ARE?
Some days, I imagine them in some exotic warehouse in Italy or France. Other days, I imagine them wrapped in sheets and stowed in someone's backroom in Jersey, or something. I hope it's neither. I hope they're at least hanging on a wall somewhere, being admired by someone. They deserve to be.
WOULD YOU LIKE TO LEARN TO PAINT?
Considering the things I end up using my talents for, it'd probably best if I never did!
HOW DID IT FEEL WHEN CLAIRE BLOCKED YOU AND WOULDN'T LISTEN TO YOU, EVEN THOUGH SHE'D JUST TOLD YOU SHE LOVED YOU?
It stung. Bad. But I deserved it, and I knew it. I didn't have any right to be mad, but I couldn't help being hurt, I suppose.
BEFORE YOU MET CLAIRE, WHAT WAS THE WORST THING YOU HAD EVER DONE?
I used to bypass the house security system to let Edie sneak in and out of the house and break curfew. At the time, it felt like the right thing to do. Our parents were way harder on her than me. They never trusted her, even though she wasn't stealing from ATMs or hacking school computers or any of the things I did. So, I helped her so she could have fun and see someone trusted her. She didn't party or anything, just met friends at the mall or movies. One night, she got mugged on her way back to her car. She was lucky, just lost her bag and keys, but she could have been hurt. So, that.
HOW DID YOU START WORKING WITH GALLO?
He was my computer lab teacher. His policy was that giving us freedom to explore would teach us the most. Stupid policy, let's be honest. I guess he watched what we got up to and saw me hacking into games or files or whatever else took my fancy. One day he kept me after class and said, "So, how did you get into the school records?" I remember my heart turning to ice in my chest. I must have looked terrified, because he started laughing. He told me he admired my skill and wanted me to show him how I did it. It all started from there, I guess.
DID YOU SERIOUSLY SIT OUTSIDE CLAIRE'S APARTMENT FOR THREE DAYS?
I sort of did. Pizza for 3 days, I'm not even kidding. I left often enough to avoid security kicking me out, and I'd wander around outside within sight of the front entrance. It was miserable, and I had way too much time to think. I wouldn't recommend it.
WHAT'S YOUR FAVORITE PLACE IN NEW YORK?
That's hard to answer now. Everything there seems so fake now. I guess I'd say our house. I wish I'd appreciated it while we still had it.
WHAT WOULD YOU STUDY IN COLLEGE?
Computer engineering, I think. Seems sort of tame, though, after everything we've been through. Maybe I should take a year off and hike around Europe.
Ha! I had to leave this for last. I think I'm an epic fail, if anything!