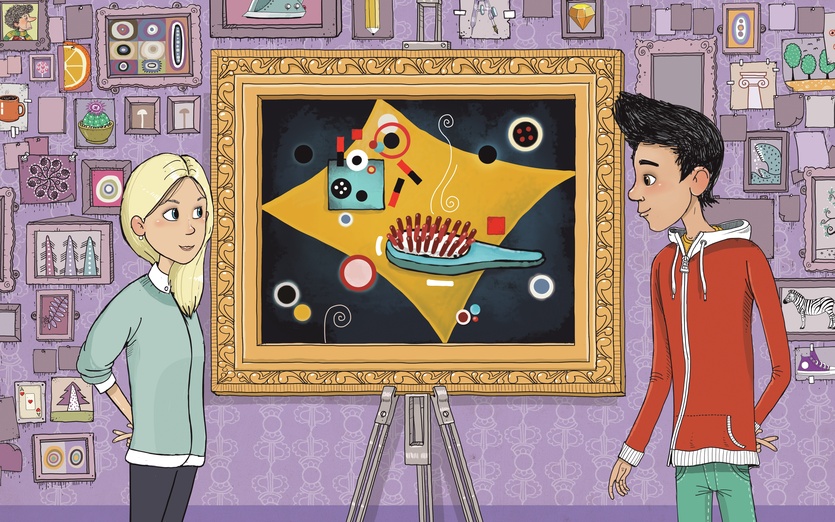 CHAPTER
49
Claire has kindly answered all your questions for her, and you had some pretty tough questions, too! Let's see what she has to say.
TELL US MORE ABOUT YOUR MOM PLEASE?
Um... do you want the nice version or the not nice version?
She used to be beautiful and fun and exactly the kind of person who could walk into a room and immediately have forty new friends. When I was little she was honestly an amazing mom. She read with me every day and did crafts and pushed me on the swings at the park for hours on end.
She left us without warning. She felt like her life with Dad and I was a dead end and she wanted to go back and try something else. In her defense, I think she was depressed. I was too young to realize it at the time and Dad was too busy. She could have found a therapist and worked through things, but she didn't. Instead, she left her eight year old daughter and her husband who needed her and ran off to Bali so she could find herself. I don't care how lost you feel, it's never okay to leave your family behind and not look back.
WHAT DID YOUR MOTHER WANT WHEN SHE RANG AND SAID SHE WANTED TO TALK?
I don't know. I try not to think about her at all if I can help it. When she "needs to talk" it usually means she wants to unload about how awful a spa treatment was or how her boyfriend Gregorio booked their flight to Maui in coach—"Can I believe that?" At first I suffered through these conversations just so I could hear her voice. Now it's not worth it anymore.
DO YOU THINK YOU'LL EVER FIND THE COLLECTION?
Not yet. It could happen though. I'm not sure I ever want it to be found. It would create new problems for me and my dad. I don't think either of us would want it to be sold.
Family, friends, and art, in that order. My dad is the most important person in my life. My mom was too until she walked out on us. I've filled the empty space she left with good friends like Sydney and Grayson. Art will always be important to me too. Line, color, form and contrast always make sense to me, even when nothing else in the world does.
WILL YOU BECOME AN ARTIST?
WHAT WILL HAPPEN TO YOUR DAD? TO CYNTHIA?
My dad is seeing doctors now. They've ruled out most of the really bad things it could have been, (MS, Parkinsons, cancer) but they still haven't figured out exactly what's wrong with him. We have an appointment next week with his Neurologist—we're hoping for more answers then. Cynthia is the same as ever. She calls every other day an begs Dad to reconsider. Dad has thought about it—he's even picked up a paint brush a few times, but the shaking is so much worse now and he's not interested in changing his style or technique to accommodate it. He's happy just being home. We go for walks and watch old movies and he spends a lot of time fishing and taking photos of the beauty around us.
WHAT DO YOU PLAN TO DO IN THE FUTURE?
I'd love to go to art school and someday travel around Europe studying the masters. I think I've gone about as far as I can go teaching myself and learning from Dad. I want to see everything that's out there—to look up close at Rembrandt's brush strokes and Van Gogh's swirls. That's the sort of thing that makes me excited.
DO YOU EXPECT GRAYSON TO BE IN YOUR FUTURE?
I hope so. He's done his best to repair the mistakes he made in the past and I'm happy that we can be friends again. I probably won't see him too much for the next few years since he's in LA and I'm in Idaho, but who knows...
WHAT DO YOU WANT GRAYSON TO BE IN YOUR FUTURE?
A friend. Okay, maybe more than that. Or maybe not. I don't really know.
WHAT IS YOUR PICTURE OF A PERFECT LIFE?
In my perfect life I'd have a steady income from selling my work and I'd always be near my dad.
WHAT IS YOUR BEST MEMORY OF NEW YORK?
Seeing the Statue of Liberty was amazing. I'll never forget that moment, or the one right after. :)
WHAT'S YOUR FAVORITE THING TO PAINT?
Right now I'm really enjoying painting buildings—especially buildings in New York. I'm almost a little homesick for them, which is crazy.
WHAT WOULD YOU STUDY IN COLLEGE?
If I can get into a great art school and Dad will agree to move close by for a few years then I'll study art for sure. If I need to stay close to home I think maybe I'd study psychology or literature or something that would inform my art in a totally different way.