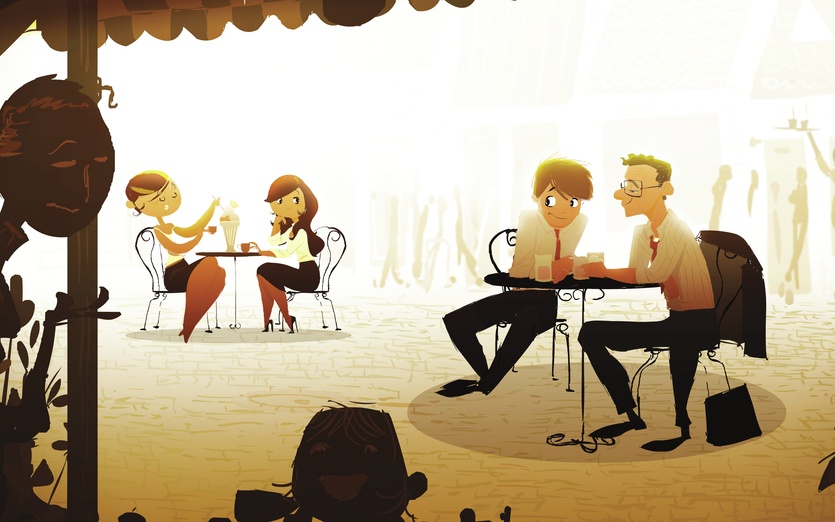 Together Forever....Or not?
CHAPTER
8
BIDDY DOODAD! BIDDY DOODAD!
"Ooo Yayzes I got a text! I hope it's from Jason!" Becca said
"He's my boyfriend," Becca said tapping the screen
I almost spluttered out the water I was drinking
"Y-YOU GOT A BOYFRIEND ALREADY! AGAIN!?" I said Surprised since she just found out Jack was cheating on her... and me
"Ya, Jason was always my best friend but I obviously didn't see that he liked me, but I texted him and told him 'our' situation....He asked if I was ok and asked if he wanted to come over to his house... I said yes and we kinda maybe we did or did not Make out a little or alot..."
"Ok fine we made out and kissed for a really long time HAPPY?!" Becca said angrily
BIDDY DOODAD! BIDDY DOODAD!
Becca picked up her phone
"OMG!" She shrieked and threw her phone into my dirty laundry bin.
"Becca what is it?" I quickly ran and grabbed her phone and read the message that her boyfriend didn't send her.... It was from Jack
I read it out loud "Hey babe, How about you come over to my house to"study" on your way can you pick up some gum? emoji winky face"
"Ok Becca calm down, I'm going to walk downstairs, I'll whistle when it's time for you to come down, try and walk slowly like a model.....See you soon!"
"Oh, sorry Jack....I was helping my friend do something" I said twirling my hair.
"It doesn't matter come sit in my lap" He smirked
I tried not to gag as he pulled me towards him again
I pushed away and sat on the other couch... I whistled loudly... he turned and saw becca coming down the stairs, he looked stunned...
"Becca did her best acting voice " Jack what are you doing at Kylie's house?
"Uhhhhhh, she invited me over to watch the fault in our stars i was about to leave!" He said getting up and putting on his coat
I grabbed his shirt collar and kissed him, right in front of Becca...she put on her best 'OMG YOUR CHEATING ON ME FACE'
Jack pulled away and stared at Becca
"What's wrong Jack? Can't I get my good bye kiss since im your girlfriend...?"
"GIRL FRIEND! I'M YOUR GIRLFRIEND " Becca yelled loudly; amazing actress she is isn't she?
"I can explain ok!" Jack said looking between me and Becca
"EXPLAIN THEN" I yelled at his face
"Uh Becca is my best friend and uh she's acting! Right Becca"
"YEAH IN A MATTER OF FACT WE ARE! SO I CANT DO THIS RIGHT IN FRONT OF YOUR GIRLFRIEND RIGHT!" Becca grabbed his shirt collar and gave him a long kiss on the lips.
"OH IS THAT IT JACK! I said I grabbed his collar and kissed him on the lips
"Fake tears came rolling down mine and Becca's cheeks
"YOU JERK!" we yelled at the same time
I stepped forward towards him
"Look, Kylie I can explain!" he stuttered
"You can now can't you!" I said
"Great i'll explain" He said smiling
"Great!?" I growled at him and slapped him hard in the face
"YA GREAT JACK! REALLY GREAT!" Becca said running towards him
I heard a loud smack, I saw Jack tears coming down his face not because of the slaps but because of us. Maybe this has gone too far but yet we weren't acting when we slapped him, we did it for realzes...
"THIS IS OVER!" We yelled at Jack
"AND BTW" said Becca tapping at her phone...
"I HAVE A NEW BOYFRIEND AND HE'S NAME IS....WAIT IT'S JASON THAT'S RIGHT IM DATING YOUR BROTHER YOU CHEATER... HE'S BEEN MY BEST FRIEND FOREVER AND I DIDN'T EVEN SEE HE LIKED ME! I KNOW HE'S NOT A CHEATER CAUSE IT SEEM'S IT RUNS IN YOUR FAMILY EXCEPT HIM AND PERCY! Becca yelled
Jack looked as if he'd been run over by a bus, he's expression turned angry
"IF YOU EVEN THINK ABOUT HURTING HIM WHILE HE'S AT HOME SO HELP YOU I SWEAR TO GOD THAT I WILL KICK YOUR BUTT!"
"AND GUESS WHAT JACK!" I said tapping at my phone
"GUESS WHO IM DATING NOW! MY STORY'S THE SAME AS BECCA'S! IM HOOKING UP WITH YOUR BROTHER PERCY! YOU PIECE OF GARBAGE!"
"LETS GO KYLIE!" Becca yelled as she slammed the door
"I feel better! Now where's Percy?"
"I think he's at the Latte donuts cafe"
"Ok bye Beck's see you later" I said happily
"Bye Kyles" she waved bye to me happily
I quickly ran into the cafe and slipped on a chocolate milk latte. I felt strong arms pull me up before I fell
I turned around and almost fainted, it was Percy, He waved his hand in my face, my vision went haywire and my hearing blanked out...I heard my name but didn't respond