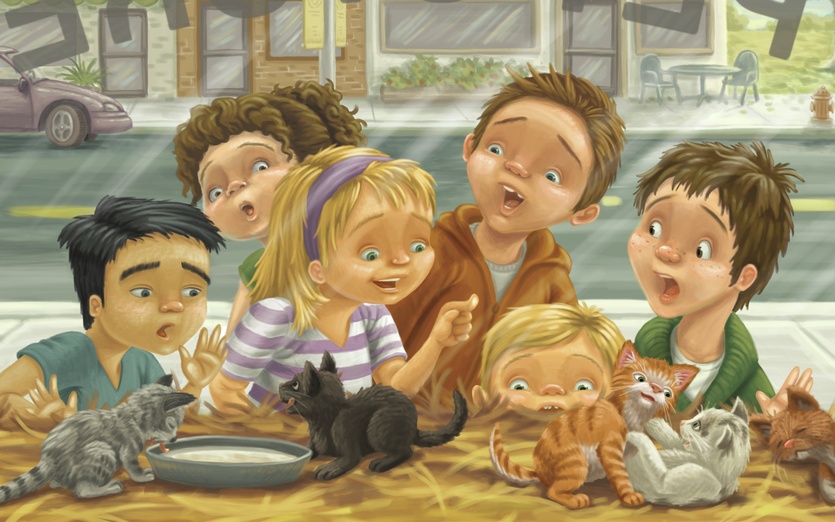 will ivy learn to follow her heart and show the other kittens herself?
The Most Adventurous Of Them All
The Most Adventurous of Them All- Where The Feline did the Feline GO?!
Felicity was terrified of cats – even the cute, clumsy kittens that frolicked in the store window. Felicity hid behind her friends as they pointed to their favorites, laughing at how cute the kittens were as they wrestled, lapped up milk, and napped in the soft bed of straw. But Felicity didn't laugh. She didn't point, and she definitely didn't talk. Felicity barely drew a breath, she was so afraid!
Felicity could feel one little kitten's eye;'s boring at her. It was a pretty silver tabby, who was drinking from the bowl. Her clear blue eyes looked so lost Felicity could cry out in pain anytime,any moment right now. Another kitten, this time a fluffy cream kitten who was playing and tumbling around with an orange tabby, looked up and sniffed at the window. Felicity's friend, Hannah, laughed and pointed at the kittens. Felicity struggled to stay composed and tried to look at something else, while her friends squealed and yelled over the other kittens. Suddenly, something caught my eye. On the board, beside the little window, was:
I was super duper sure no one's bought any yet. I scramble inside the shop, my heart pounding as I try to ignore the kittens and walk up to the shopkeeper. It was her friend, Ashley. "Uh...Hi Ashley!" Felicity stumbled over her words, as she tried to think of something else than a bunch of kittens. "Hey, hon! Watcha up to? Do you want to buy some kittens?" Ashley said lightheartedly. "Oh, no, no!! I just said, no one's bought any kittens, right?" Felicity said, regretting ever coming into the shop. "Yeah, shame that. But I think your friends will be, quite soon anyway." Ashley replied happily, munching on a fruit bar. "Oh, OK. Because it said 6 kittens on sale, but there are only 5 kittens left!" Felicity exclaimed, blurting the whole thing out. "Impossible, girl!" Ashley gasped as she made way to the kitten corner. "One, two, three, four, five!" Ashley shook her head, frowning. As all of Felicity's friend scrambled into the shop and yelled out their orders, Felicity felt terribly small and useless. "The silver tabby one for me!" "The orange tabby and the fluffy, sleepy kitten is mine!" "Black kitten is mine!" "Hey, but I already paid for it!" "OK, fine! The orange tabby will be mine then!"
Felicity looked on as Ashley was swamped by her friends, all wanting the kittens. In the end, there wasn't any more kittens left. "Hey, Feline! Since you have such a great cat phobia, why don't we-just us- go find that adventurous bundle of fur? You'll love him!" Ashley grins, without waiting for a reply, she grabbed Felicity's hands.
"We're going for an adventure, a great big adventure!
Through the woods of pure destiny,
You can watch it all burn.
But remember, oh remember,
That I will surely return.
We're going on an adventure, one
as the moon who pasted the sun.
we're going to go on an adventure,
none as great and epic as this one!"
We walk along the concrete steps, Felicity's heart racing and pound. Felicity is terrified, but Ashley continues on singing. Gracefully, and gentle as a fluttering butterfly. Felicity's heart eases for a while. Felicity does have cat phobia. "Now, this little fuzzball should be around here." Ashley says, standing outside the pizza shop. Felicity can't suppress a laugh, as we head into the pizza shop. Inside, rows and rows of tables lined up together, and the smell of freshly baked bread and tomato sauce fill the air like crazy. Ashley leads Felicity to the counter. The receptionist smiles.
"Hey, Ashley! Looking for a fur ball who walked to the wrong side of the road?" The receptionist smiles, her dark skin looking perfectly blended with her brown hair and glittering eyes. "Yup! You've guessed right! Now, where is he?" Ashley asks, her eyes flickering around. The receptionist laughs and tells Ashley and Felicity to wait for a moment. Felicity could hear her knees shaking, and she was scared that she might faint when she saw the kitten. "Don't you worry, hon! The kitten ain't gonna bite you." Ashley smiles.
And then, out comes the kitten. Felicity scrunched up her eyes and yelped softly. She forced herself to bend down, and she felt a lick on her nose. "Feline, girl! The kitten ain't a monster! Look, he likes you already!" Ashley rubs Felicity's shoulders encouragingly and whispers: "Ain't you worry, Coconut McDuffin's not gonna scratch you, if he does, I'll hit his cute little button nose. You don't want to see me hit his cute button nose, will'ya?" Ashley jokes, which makes Felicity feel much more confident and better. Felicity takes a deep breath and opens one eye. Then the other. She gasps as she sees the little cream and caramel, short-furred kitten, who was snuggling down in her lap. "Like him? Say hello to Coconut McDuffin!" Ashley laughs, and Felicity cracks into a rough smile. "He is cute." Felicity whispers, stroking the Coconut. Getting a closer look, Felicity could see he had a remarkable, and distinctive cute, pink button nose and shaggy soft coat. Definitely more adventurous than the other kittens Felicity's seen! "Come on, hon let's get back to the pet shop. You think'in of buying her yet?" Ashley counters, scooping the kitten up. "Sure will, captain Ash!" Felicity grins.
As they got back to the pet shop, Felicity couldn't help thinking. Do I really hate cats? Felicity adored Coconut McDuffin, because he was an 'Exotic Shorthair' as Ashley had said. "You've overcome a real fear, you know that?" Ashley said, holding Coconut. "Yeah, I know." Felicity smiled. "And I'm proud of you." Ashley remarked.
Even though Ashley was three years older than Felicity, Felicity could feel a huge bond between them. "Hey, now that Coconut is all yours, make sure you come to visit me everyday with him, you hear? I'm gonna miss that button nose." Coconut jerks his head up and his wide, round eyes stare up at Ashley. "*yes*, you little trouble maker, yes! I'm talking about you, you little fuzzball!" Ashley digs her nose into the kitten's tummy, which makes Felicity laugh. As they walked back into the pet shop, Felicity sighed. She should have known, how you should never look at a cat's-no, anyone's-appearance, and judge them like that head on. That would be a mistake Felicity thought, looking at Coconut.
"So, take care of him for me, okay? He's my favorite." Ashley nods her head to Coconut. "Of course I will!" Felicity waves good-bye and strokes Coconut's fur as she went back home. Felicity suddenly remembered the song Ashley sang at the start:
"We're going for an adventure, a great big adventure!
Through the woods of pure destiny,
You can watch it all burn.
But remember, oh remember,
That I will surely return.
We're going on an adventure, one
as the moon who pasted the sun.
we're going to go on an adventure,
none as great and epic as this one!"
-Ashley and Felicity...Oh! And Coconut McDuffin, too!-